Iraq: Trade unionists confront climate change
On 21 April, during a week dedicated to the issue of climate change, members of the KTU learned ways of working with children to create a healthy environment and climate. During a seminar on climate change, Dr. Abdullah, a specialist in environmental and climate issues, highlighted the roots of climate change:
The combustion of a large number of gases, oil, and coal by huge companies.
The eruption of volcanoes, whose effects remain for long periods and cover large areas of the world.
The increase in the population globally, and the misuse of natural resources.
Burning of forests and deforestation, especially the dense forests of the Amazon - the well-known "lung of the Earth".
Negative impact of climate change
He also identified clear outcomes of climate change:
The melting of ice in the Arctic and South Pole, leading to the rise in water levels in the seas and oceans, generating hardships and difficulties for mankind.
High temperatures.
Desertification of agricultural lands. He cited the example of the impact of the desertification of about 100,000km of land annually in Iraq.
Increased salinity and minerals negatively affecting the water and consequently large quantities of fish stocks.
Mitigating climate change
The climate change expert listed actions that can be undertaken regarding climate change:
Using clean energy – instead of gas, oil, and coal – and making use of solar and water-generated energy.
Using public transportation, citizens reducing the use of personal and private cars.
Protecting forests and increasing the large percentage of agriculture on lands, to reduce the percentage of carbon dioxide and increase the percentage of oxygen.
Education International's "Teach for the Planet" campaign
"All attendees stressed the importance of inserting environmental protection and climate change in curricula at all school levels. In this way, attention will be focused on this topic and educators will be able work with children to create a healthy environment and climate," said KTU president Abdalwahed M. Haje.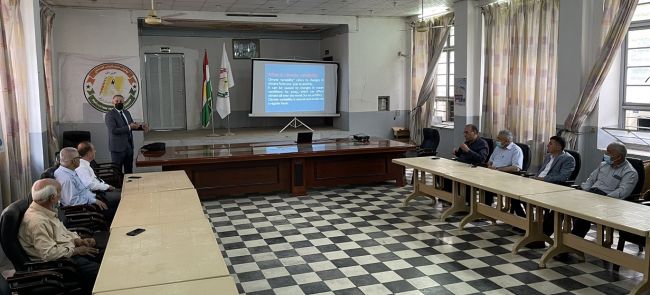 [Thu, 29 Apr 2021 16:48:00 +0200] | DIGG THIS
[Source URL]
Education International · No. 53-B, Jalan Telawi 3 · Bangsar Baru 59100 · Kuala Lumpur · MALAYSIA Phone: +6 03 2284 2140, +6 03 2284 2142 Fax: +6 03 2284 7395 Email: eiap@ei-ie.org