Regional Committee Appalled by Coups D'état in Africa
The Education International Africa Regional Committee (EIARC), which met virtually on the 20th of September 2023, adopted two resolutions: one on the Respect for Democratic Principles and Institutions during and after Coups D'état and the second on the disaster in Morocco caused by the Earthquake.
The EIARC was seriously concerned about the growing number of coups d'état in Africa. There have been military takeovers in Guinea, Sudan, Mali, Burkina Faso, Niger, and most recently in Gabon. These coups "have overthrown legitimately elected leaders and violated the will of the people as expressed through elections", according to the EIARC resolution. They pose a threat to the stability and prosperity of nations as well as the fulfillment of education, and trade union rights. They are a threat to fundamental rights and freedoms and undermine democratic principles and institutions which must be preserved.
The EIARC, therefore called on African governments to uphold and respect the will of the people and protect democracy, the rule of law, and rights and freedoms. They also urged the African Union, Regional Economic Communities, and governments to respect the right of students and teachers to safety and peace, academic freedom, and the trade unions' rights among others. Read the full resolution here.
The EIARC was also concerned about the impact of the earthquake that erupted in the Kingdom of Morocco on 8 September 2023 affecting many children and killing others including educators and learners. The Committee was particularly concerned about the circumstances of the survivors who had been left without shelter, safe drinking water, medical assistance, and food. The Committee therefore expressed deep condolences to all the educators, students, and families who lost their loved ones or were injured and called on the Moroccan authorities and humanitarian agencies to come to their rescue. Here is the resolution.
These resolutions were made in the EIARC meeting called to prepare for the Africa Regional Conference due from 19th to 24th November 2023 at the Standon Convention Centre, Johannesburg, South Africa.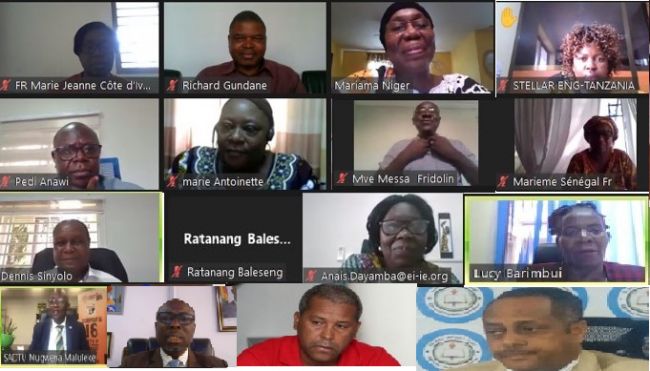 [Fri, 22 Sep 2023 12:23:00 +0200] | DIGG THIS
[Source URL]
Education International · No. 3 Torshie Close, · Mempeasem · Extensão de East Legon · Accra · Gana
Phone: +233.302.50.12.00 · Fax: +233.302.50.66.81 · Email: eirafoffice@ei-ie.org