Education Unions meet to devise strategies to challenge privatisation of education
In the framework of ensuring equitable, inclusive quality public education for all, Education International (EI) Africa organised a virtual webinar for its member organisation in Africa on 6th April 2022. The meeting aimed at examining emerging evidence from EI Africa's evaluation of the current campaign against privatisation and commercialisation of education and a regional study on the same issue. It also created an opportunity for EI member organisations in Africa to share experiences and strategies for challenging privatisation and promoting quality public education for all.
The webinar, which brought together 136 participants under the theme "Resist privatisation, defend quality public education" was moderated by Marieme Sakho Dansokho, EI Executive Board and Regional Committee member. During the webinar independent experts, Curtis Riep and Limbani Ntsapato shared findings of the study on trends, forms, and magnitude of privatisation in Africa and reflected on the achievements, strengths, and weaknesses of the current Global Response programme, respectively. In the statement adopted during the webinar, the education unions reaffirmed their commitment to defend and promote the right to quality public education.
In his opening remarks, the Chairperson of Education International Africa Regional Committee (EIARC), Christian Addai-Poku, said Africa will not meet its vision of "The Africa We want" unless something is done urgently to address privatisation, which he referred to as "one of the greatest threats to the achievement of the UN's Sustainable Development Goal (SDG) 4 on quality education and the objectives of the African Union's Continental Education Strategy for Africa".
EI Deputy General Secretary, Haldis Holst, highlighted several global challenges and EI's efforts to promote quality public education for all. She reiterated EI's commitment to continue to advocate for more and better education financing and teachers, as well as improvement of the status and working conditions of teachers and education support personnel through the SDG4 and UN mechanisms. The webinar also offered an opportunity for a group discussion on the main drivers and challenges related to privatisation and proposed strategies for addressing the challenges.
Dr. Dennis Sinyolo, Regional Director of EI Africa, in his closing remarks, stated that research evidence is crystal clear that privatisation and commercialisation of education is on the rise. He emphasised on the need to close the digital divide by putting pressure on governments to equip all our education institutions with appropriate digital infrastructure, to regulate data costs and to build the capacity of educators to use technology as a tool for teaching and learning. He however stressed that technology cannot replace teachers nor in-person teaching and learning.
He added that donor countries should also meet their commitment to allocate at least 0.7 of GNI to development aid and ensure that at least 10% of all official development assistance goes to education.
"We remind African and all governments that money put into education is not an expense, but an investment; an investment in our children and their future; an investment in the Africa we want".
"To ensure a successful campaign, we need to build a strong evidence base, organise, and mobilise, both within and outside our movement, and communicate effectively'', he concluded.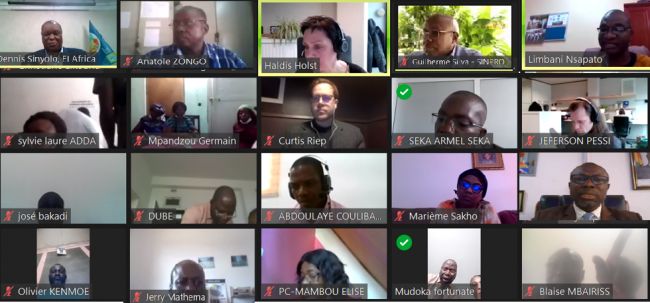 [Thu, 07 Apr 2022 17:59:00 +0200] | DIGG THIS
[Source URL]
Education International · No. 3 Torshie Close, · Mempeasem · Extensão de East Legon · Accra · Gana
Phone: +233.302.50.12.00 · Fax: +233.302.50.66.81 · Email: eirafoffice@ei-ie.org