SYNAEM-Benin Celebrates 20 Years of Existence
Syndicat National des Enseignants des Écoles Maternelles du Bénin (SYNAEM Benin), the Teachers and Workers Union organizing in early childhood education in Benin, commemorated their 20th anniversary on Saturday, May 13, 2023.The event was held at the Bourse du Travail in Cotonou, and was led by their Secretary General, Elvis Gaétan Kponoukon.
The event was attended by SYNAEM Benin members and allies who felt that the union's 20 years of existence was a cause for celebration having been formed on the 13th of May, 2003, according to Madame Andrea Glele, a founding member of SYNAEM-Benin.
The occasion was also graced by the presence of dignitaries from the Ministry of Nursery and Primary Education, the head of the labour Centre (UNSTB), Mr. Appolinaire Affewe, and members from all parts of the country.
The event also provided an opportunity to showcase the union's activities in early childhood education, particularly the training of its members. New perspectives were also defined. Click here to watch the full celebration.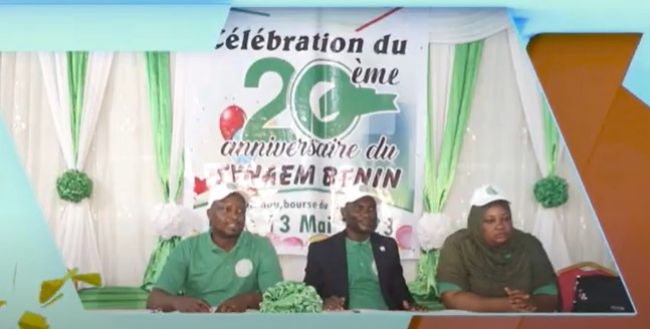 [Wed, 24 May 2023 18:44:00 +0200] | DIGG THIS
[Source URL]
Education International · No. 3 Torshie Close, · Mempeasem · East Legon Extension · Accra · Ghana
Phone: +233.302.50.12.00 · Fax: +233.302.50.66.81 · Email: eirafoffice@ei-ie.org