Development Cooperation to Strengthen Effective Social and Policy Dialogue in Chad
Education International promotes the application of International Labour (ILO) Standards, including freedom of association and the right to organise, to bargain collectively and to undertake industrial action, including strike action, if necessary. EI also supports the right of teachers and education employees' organisations to participate in the formulation and implementation of educational policies at national and international levels.
In the framework of development cooperation, EI and SET/Chad, with support from UEN/Norway, commissioned a study to analyse the context of social and policy dialogue in Chad. The study aimed to help better understand the structural, political and socio-economic forces that influence the possibilities of teachers' unions to engage in both social and policy dialogue in Chad, with a view to influencing educational policies and advancing workers' rights. This joint initiative on one of the core mandates of Education International perfectly aligns with its principle of 'building solidarity and mutual cooperation among member organisations,' that will contribute to develop the capacities of SET/Chad to take up its position as one of the key stakeholders in social and policy dialogue in the country.
A validation workshop that brought together representatives of UEN/Norway, EI Africa and SET/Chad, was organised from 2 to 3 May 2023 to examine the findings and recommendations of the research to ensure that they reflect the realities on the ground.
The study found out that Chad has been experiencing political instability since its independence in 1960, which affected and continues to affect the development of the education system which is characterised by a low capacity to adapt and innovate in response to new problems. It also highlighted that since 2009, an institutional framework for tripartite national dialogue involving government, employers, and trade unions was put in place to ensure the moderation of negotiations and the monitoring of commitments made throughout the various protocols, but its effectiveness remained to be proven. As a matter oof fact, this dialogue did not systematically lead to the implementation of decisions. Therefore, strengthening social and policy dialogue mechanisms in Chad was very relevant in order to increase the capacity of the EI member organisation in the country to efficiently carry out its mandate in the dialogue over policies and decent working conditions.
The analysis of social and policy dialogue contexts in Chad is in perfect line with EI Africa's framework on social dialogue adopted by the EI Africa Regional Committee in 2022, which seeks to encourage the creation of a conducive climate for labour relations, policy and social dialogue, including collective bargaining, with the ultimate goal of achieving decent work for educators and quality education.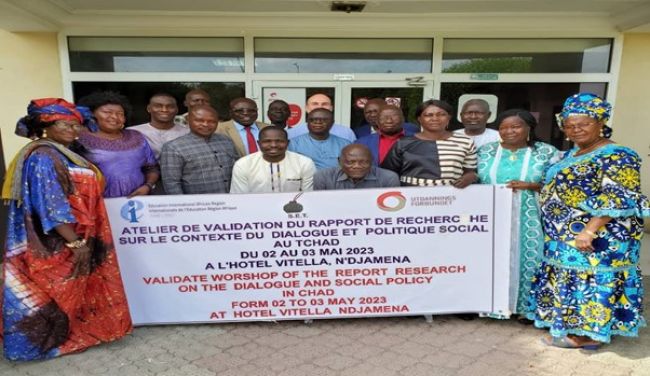 [Mon, 15 May 2023 16:04:00 +0200] | DIGG THIS
[Source URL]
Education International · No. 3 Torshie Close, · Mempeasem · East Legon Extension · Accra · Ghana
Phone: +233.302.50.12.00 · Fax: +233.302.50.66.81 · Email: eirafoffice@ei-ie.org