Malawi: Unions rescue their members following Cyclone Freddy
On April 11, 2023, Teachers Union of Malawi (TUM) officials loaded a truck with relief food items and drove to Mpatsa Primary School in Malawi's lower Shire region, in the Nsanje district. They met 73 teachers at Mpatsa Primary School and gave each one a bag of maize flour and a bottle of cooking oil. These were the first of 250 teachers to benefit from TUM's and PSEUM (Private Schools Employees Union of Malawi) gesture to draw attention to teachers in particular as part of the people affected by Cyclone Freddy, which ravaged Malawi, Madagascar, and Mozambique. Here's a picture of teachers showing their support.
This cyclone, which has been described as the worst in a long time, had a significant impact on education. According to the Malawi Department of Disaster Management Affairs (DODMA), 133 students and two teachers were killed, 586 teachers were injured, and 390 schools were occupied by internally displaced persons. See The Nation Online (mwnation.com) report.
According to the report received by EI from TUM and PSEUM, infrastructure such as road networks/bridges, electricity lines, water supply systems, hospitals, roads, crops, livestock, and other properties were severely damaged by the cyclone. Teachers' homes and personal belongings were destroyed. In some schools, classroom blocks/teacher houses collapsed, classes were submerged, toilets were destroyed, and floating waste put teachers and students at risk of illness.
Mpatsa Primary School was in this state when TUM arrived to assist the 73 teachers with supplies. This visit was covered extensively by the press, drawing attention to the plight of the teachers and students. The school quickly reopened, but the teachers had to teach in tents provided by UNICEF and the teachers are also living in tents.
"We are happy to report that learning has resumed at that school, which had been completely buried by sand. Many thanks to UNICEF Malawi for their prompt response after seeing the shocking images of the school on our national television during our solidarity activities", TUM Secretary General,Charles Kumchenga reported. UNICEF set up four learning tents at the school and five tent houses for displaced teachers. Students return to school following Cyclone Freddy.
TUM was further relieved when other organizations came to the aid of teachers, whom many saw as privileged in comparison to the other victims of the disaster who did not earn salaries. Kumchenga stated:
"The Africa Evangelical Church visited several schools in the Nsanje district to console teachers, particularly those who had been directly affected by Cyclone Freddy." One of the schools they visited was Mpatsa, which had been severely damaged by Cyclone Freddy. Every teacher received a 25 kg bag of flour, a mosquito net, a blanket, and two 1 kg table salt packets. They did the same for all teachers in the schools they visited." This is a photograph of children having fun in their classroom tent.
Similar exercises were carried out by the Private Schools Education Union of Malawi (PSEUM), Education International's other affiliate in Malawi. It provided relief items to its members who survived Cyclone Freddy in Blantyre.
""In Blantyre, PSEUM provided 50 teachers with bags of maize and cooking oil. Margret Nyoni, PSEUM Treasurer General, and Holyman Mdoka, Vice General Secretary, led the exercise. PSEUM is grateful to EI for the financial support that allowed the union to reach out to the affected teachers in Blantyre," the union said on Facebook. Click here to see a photo of a private school teacher receiving food items from PSEUM officials.
Dr Dennis Sinyolo, Director of Education International Africa, was pleased that the solidarity activity of EI member organizations in Malawi is generating additional support for the affected teachers.
"It is heartening to see that TUM and PSEUM were able to mobilize additional support for the affected teachers beyond what Education International provided. It is encouraging that our Malawian member organization have shown concern for fellow teachers and education.We are stronger when we work together", He said.
Following the devastation caused by Cyclone Freddy, EI responded to a call from member organizations in Malawi, Mozambique, and Madagascar. Previously, similar cyclones such as Idai wreaked havoc on the sub-region. This clearly demonstrates that climate change is a reality, which is why it is a major concern for Education International, according to the Regional Director.
More on Climate change action by Education International can be found here.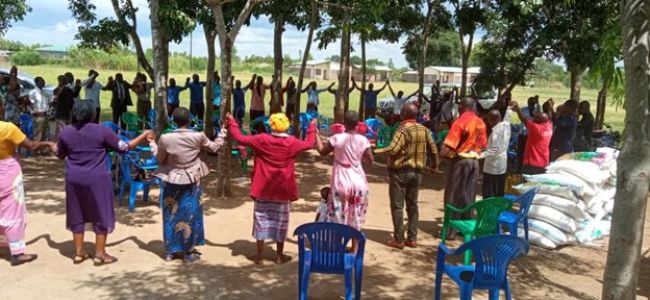 [Fri, 12 May 2023 13:41:00 +0200] | DIGG THIS
[Source URL]
Education International · No. 3 Torshie Close, · Mempeasem · East Legon Extension · Accra · Ghana
Phone: +233.302.50.12.00 · Fax: +233.302.50.66.81 · Email: eirafoffice@ei-ie.org