Mozambique: Union capacity building project gathers momentum
Education International Africa joined hands with the National Teachers Organisation of Mozambique (ONP) to strengthen union solidarity through capacity building.
In a solidarity meeting held on 17 April 2023, EI Africa, ONP and South African member organisations, SADTU and NAPTOSA, discussed the challenges faced by ONP and explored ways of strengthening solidarity in order to overcome the identified obstacles. The solidarity meeting was held prior to the Annual review and planning meeting of the Promoting Education and Educators Rights in Africa (PEER) project, held on 18 and 19 April.
Following ONP's 2019 Congress, the organisation has been trying to register as a full-fledged union but to no avail due to several roadblocks posed by the challenging legal and political environment in the country. Full union status would potentially enable ONP to engage in collective bargaining, collect union dues through a check-off-system and achieve financial independence and sustenance.
In addition to capacity building, education International has supported ONP to respond to the conflict in the north and the various cyclones that have hit the country by providing food, shelter and clothing to the affected members.
According to ONP General Secretary, Teodoro Albino Muidimbe, EI's financial support has helped the union to recruit more members."We thank EI for helping us in times of need", said Muidimbe in his opening remarks during the solidarity meeting.
Speaking at the solidarity meeting, EI Africa Regional Director, Dr Dennis Sinyolo, reiterated EI's commitment to supporting ONP to build the capacity of its leaders and members and to attain full unionisation.
"We will walk the entire journey with you until you have been recognised and registered as a union", stressed Sinyolo.
The PEER project seeks to develop the capacity of member organisations in Mozambique and Eswatini, with a view to building stronger and independent unions that can engage more effectively in social and policy dialogue. The PEER project is a collaboration involving EI Africa, SASK (the trade union solidarity centre of Finland) and OAJ (the Finish teachers union), supporting the Swaziland National Association of Teachers (SNAT) and ONP.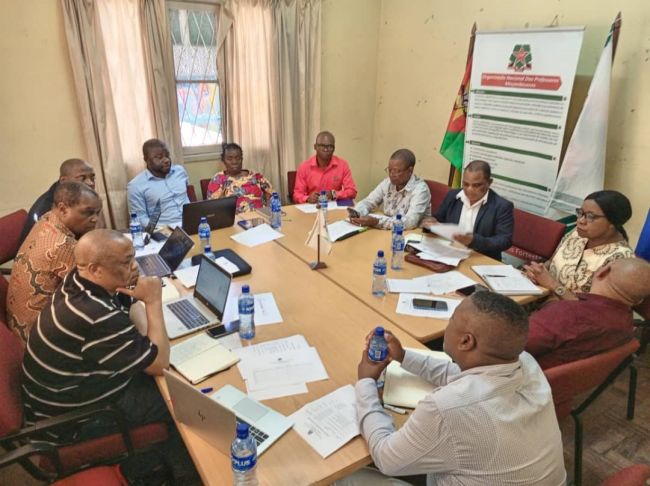 [Thu, 20 Apr 2023 15:44:00 +0200] | DIGG THIS
[Source URL]
Education International · No. 3 Torshie Close, · Mempeasem · East Legon Extension · Accra · Ghana
Phone: +233.302.50.12.00 · Fax: +233.302.50.66.81 · Email: eirafoffice@ei-ie.org