Senegal: Education unions strengthen their capacities to advocate for better financing of education
Research conducted recently by COSYDEP, a network of civil society organisations in Senegal, revealed that more than 1.5 million children aged 9 and 10 are not going to school. This huge number of out-of-school children in the country is an indication of a deficient provision of publicly financed education. It is in this context that EI member organisations in Senegal, working together under the banner of USEQ, joined ActionAid in the TaxEd Alliance that seeks to advocate for adequate taxation as the main source for adequate financing of public education.
From 14 to 15 December 2022, EI member organisations in Senegal organized a capacity building workshop to explore the issue of the optimal use of Senegal's fiscal potential to ensure consistent and sustainable financing of education and training.
The workshop brought together participants from EI member organisations, partner Civil Society Organisations in the Tax Justice Alliance, the Ministry of Education, Ministry of Higher Education, Ministry of Finance, and a representative of the EI Africa Regional Office. The workshop sought to train participants on the fiscal policy in force in Senegal; assess the needs for financing education and training in the country; identify and discuss proposals for an appropriate fiscal policy for substantial and domestic financing of education and training in Senegal.
Speaking on behalf of EI, Pedi Anawi, in his opening remarks, recalled that Education International promotes social justice. As a result, it advocates for free quality education regulated by public authorities and financed with public funds in all countries.
Mr Cheikh Lam, representing the Minister of Education, acknowledged that investing in teacher training equates to investing in quality education. He, therefore, congratulated the trade unions' advocacy for adequate financing of education and affirmed that it is usually difficult to measure the contribution of trade unions and the civil society organisations in the follow up and monitoring framework of the government's commitments and plans for the provision of inclusive quality education.
Presentations and exchanges thereafter revealed that Senegal, like many other developing countries, has unexploited tax opportunities that could be tapped to better finance education.
EI member organisations in Senegal acknowledged the Government's effort in allocating more than 20 percent of its annual budget to education.
Nevertheless, based on the ever-increasing demand for education due to the youthful population, they called on the government to seek existing alternatives for domestic financing of the education system in Senegal. They committed to engage other civil society organisations, as well as all other relevant stakeholders to continue advocacy and lobbying with government for tax justice for education financing.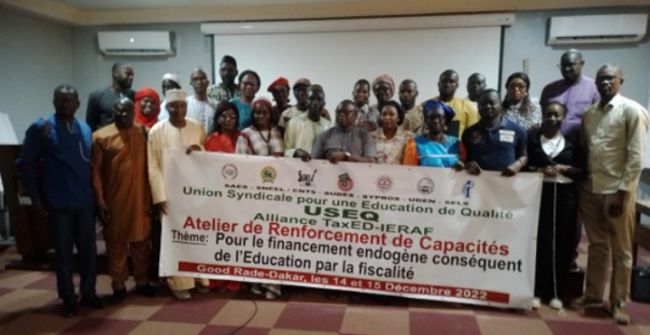 [Sun, 18 Dec 2022 09:21:00 +0100] | DIGG THIS
[Source URL]
Education International · No. 3 Torshie Close, · Mempeasem · East Legon Extension · Accra · Ghana
Phone: +233.302.50.12.00 · Fax: +233.302.50.66.81 · Email: eirafoffice@ei-ie.org