Iraq: KTU members call for government to provide ongoing training to support quality education during COVID-19 pandemic
It is the government's duty to distribute digital tools to teachers and students and to organise ongoing training for teachers. That was the view of the 24 teachers and nine students from the College of Basic Education who attended the training for members of the KTU's Halabja union branch in Said Sadiq City. At the session, held from 9-11 March, participants addressed the benefits of new technologies in education, as well as remote teaching and learning. They also highlighted conditions in the education sector and the necessary supplies that must be provided by the government, especially during the COVID-19 crisis.
E-learning alternative
Attention must be paid to e-learning as an alternative to face-to-face teaching and learning, as it can be beneficial in special circumstances, participants said. They said that supporting them in gaining knowledge helps them to replicate good experiences in the field of remote education.
At the end of the training, participating teachers and students expressed regret that the Ministry of Education has not yet organised courses in e-learning. They urged the Kurdish government to take advantage of teachers who have gained considerable experience as leaders within education institutions.
Union programme
The training course in Said Sadiq City also outlined modern teaching methods and established comparisons between modern and classic teaching methods.
Participants stressed that:
The teaching and learning process must primarily take place inside the classroom.
The government should provide teachers and students in schools with the necessary health equipment, in particular personal protection equipment and sterilisation kits.
Teachers must be vaccinated against COVID-19, after health services personnel.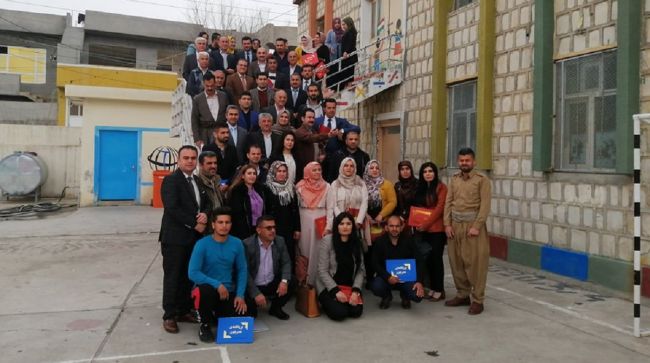 [Thu, 15 Apr 2021 14:29:00 +0200] | DIGG THIS
[Source URL]
Regional Office for Arab States · International Education · 5 boulevard du Roi Albert II · B-1210 · Brussels · Belgium
Phone: +32-2 224 06 11 · Fax: -32-2 224 06 06 · Email: eiaco@ei-ie.org