Jordan: Teacher unionists released, but pressure on government continues
On 23 August, Jordanian Teachers' Association (JTA) board members were freed from jail, having been imprisoned since July. The JTA leaders were arrested by security forces
on 25 July
, and Education International urged the Jordanian authorities to release the unionists. The release is due to Jordanian legislation that put a limit of 30 days on the detention of the unionists.
Power of global solidarity
For Education International, the global media coverage, statements by global unions and human rights organisations, including the United Nations, letters,
the LabourStart online petition
, and social media campaigns put significant pressure on the Jordanian government.
As the new school year starts next week in the country, the government might also be willing to avoid further teachers' protests.
Advocacy to release other teachers
Education International will maintain pressure on the Jordanian authorities as there are still many other teachers, journalists, and activists being held in detention. The global union federation will also continue to protest against the government's ongoing decision to close the union offices for two years and prohibit JTA board members to represent teachers.
Actions to get JTA offices reopened
Education International will continue its advocacy until the other detained teachers are released and the association offices and branches are reopened. It will do so, along with civil society organisations and human rights defence groups, and in addition to its urgent action appeal in support of the detained activists.
Education International remains seriously concerned that teachers in Jordan, as public servants, are prevented from forming trade unions, which is in breach with International Labour Standards.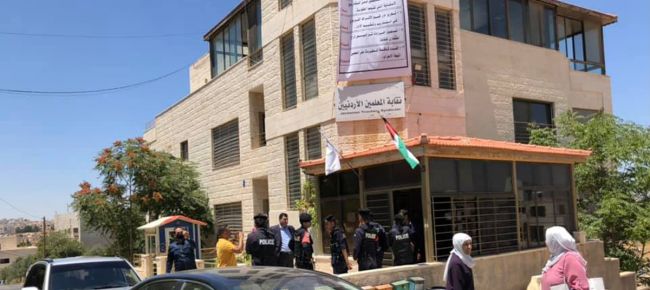 [Mon, 24 Aug 2020 17:14:00 +0200] | DIGG THIS
[Source URL]
15، شارع ِبسكفشيم 0010، بروكسل، بلجيكا
Phone: +32-2 224 06 11 · Email: eiaco@ei-ie.org