#16dayscampaign | "Mobilising the community to prevent school dropout among girls following COVID-19 school closures", by Joan Aja (UNATU, Uganda).
The need to support girls' education is still critical in Uganda, especially during the Covid-19 pandemic lockdown. When schools closed, girls were exposed to the risks of child marriage, sexual abuse and early pregnancy.
The UNATU Simameni project promotes access, retention and completion of girls' secondary education. Community mobilisation meetings are essential components of the project, bringing together parents, community members, child and family protection Units of Police, Community Development Officers, Probation Officers, teachers and students as education stakeholders.
During such a community meeting, the Uganda National Teachers' Union documented the story of the mother of a 17-year old girl. When schools reopened, the mother wanted her daughter to go back to school. However, she learnt that her husband, who lived and work in town, had received a dowry of 4 cows to marry off their daughter and had even sold the cows.
The girl wanted to go back to school, but the family that paid the dowry refused to let her return to school unless the dowry was refunded. The girl is pregnant and under the current government re-entry guidelines, the girl has the right to register for final examinations.
The girl's brother has returned to school and the father paid his school fees, claiming the boy is more intelligent and had better future prospects in education than the girl. The mother wants the girl to go back to school and she is seeking support.
The community mobilisation meeting gave the mother the opportunity to share her experience and ask for help. The police encouraged her to make a formal statement at a police station, so that the girl can be supported to go back to school. The Police informed everyone at the meeting that it is against the law to marry off children.
The meeting provided an opportunity for the community members to ask questions about how the law works to protect children. The police officers encouraged members to listen to their talk shows on radio and to follow the guidance offered.
Students present at the meeting also had an opportunity to talk about their needs, including school materials, soap and other requirements that affect their daily experiences at school. One student stated: "Parents, please play your role and we shall also work hard and enjoy the benefits of education"; another student stated: "We are given too much work at home and this affects our learning."
At the end of the meeting, everyone left knowing they need to play a role in the education of their children.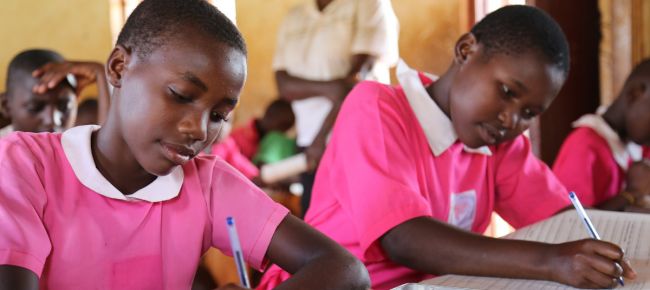 [Fri, 04 Dec 2020 17:19:00 +0100] | DIGG THIS
[Source URL]
Education International · No. 3 Torshie Close, · Mempeasem · East Legon Extension · Accra · Ghana
Phone: +233.302.50.12.00 · Fax: +233.302.50.66.81 · Email: eirafoffice@ei-ie.org